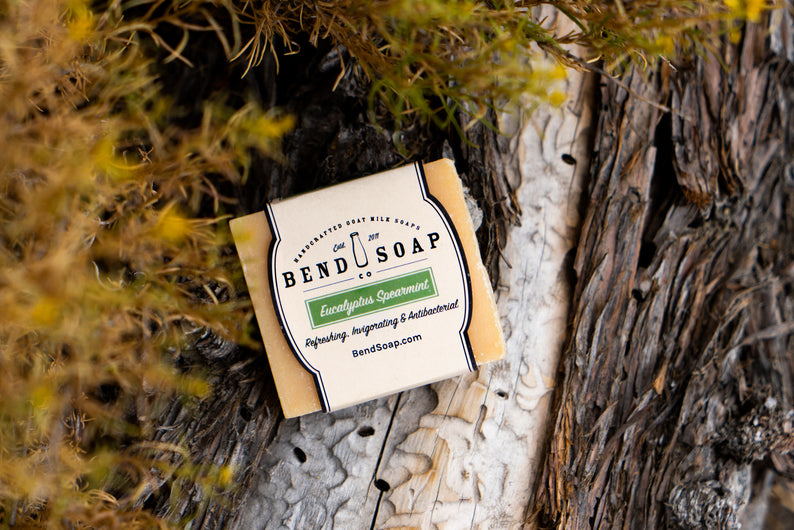 Creative Ways to Use Travel Size Bars of Goat Milk Soap
There's a lot to love about travel size goat milk soap, but some of the benefits and ways to use these 1.5oz bars can be overlooked by the untrained eye. From adventures and trips to gifts and a little self-indulgence, these mini soaps are ideal to keep on hand so you never find yourself without a way to wash up. Today we're highlighting five different ideas for leveraging your bars of travel size goat milk soap.
#1 A fun way to try out & explore new scents
Here at Bend Soap Company, you'll find 13 different goat milk soap scents that are offered year-round with limited edition scents — like Coconut Lime, English Garden, and Black Licorice — added to the shop on a seasonal basis. While we think all of our scents are fantastic in their own way, it can take a little time to find your favorites. Cue our travel size bars!
Our travel size bars of soap will give you a glimpse into the wonderful world of goat milk soap without having to purchase full-size bars. Our Travel Size Sampler makes it easy, giving you seven, 1.5-ounce travel size bars of soap in these fan-favorite scents:
Oatmeal & Honey: The very first "scent" of soap we ever made! Contains real oats and honey and is a must-have for anyone with sensitive skin. 
Unscented: Trust us… There's nothing boring about this essential oil-free soap! Perfect for those who like to keep it simple.
All Shield: An essential oil powerhouse! Perfect for fans of Young Living "Thieves" or Doterra "On Guard" essential oils.
Lavender Blossom: This soap is jam-packed with real lavender buds that provide you with a little extra exfoliation. 
Sweet Orange: The bergamot and orange essential oils in this soap offer a fresh and vibrant citrus scent. 
Eucalyptus Spearmint: Eucalyptus and spearmint essential oils work together to help you feel fresh, focused, and ready for the day.
Tea Tree: Dealing with acne? Try this scent first! The tea tree essential oil in this soap has long been recognized for its antibacterial, antiseptic, and antifungal properties (AKA, great for battling against acne!)
Find your personal favorite here. 
#2 Perfect for house guests
Nothing says "welcome to our home!" better than a thoughtfully prepared guest bedroom and bathroom. Who wouldn't feel special and cared for when they discover that you laid out a few locally crafted and high-quality skincare products for them to use and enjoy during their stay. Travel size bars of soap are also travel-friendly, so if your friends and family are flying back home, they'll make it through airport security without a hitch. Get even more tips on being a warm and welcoming host in this blog post. 

Fun Fact: Did you know that with every purchase you make at BendSoap.com, we provide a free travel size bar of goat milk soap to someone who needs it most? Learn more about our Buy 1 Give 1 Program here. 
#3 Great for (you guessed it!)...Travel!
There's no secret that the ideal skincare products to bring along during your next vacation are multi-use, all-natural, and TSA-friendly. Luckily, our travel size bars of goat milk soap check all the boxes!
Whether you care about the footprint you're leaving on the environment, have sensitive skin and want to try and keep your skin happy while you're on the go, or just want to bring along a bar of soap that can be used multiple ways, our goat milk soap will help you get the job done without a lot of fuss or worry. 
One single bar of goat milk soap can be used — and effectively replace — the following products:
Body wash

Hand soap

Makeup remover

Pet shampoo
Just wet, lather, clean, and rinse — it really is that easy! 
#4 A thoughtful & affordable gift for friends and family
When it comes to introducing your friends and family to Bend Soap Co. products, travel size bars of goat milk soap are the way to go! They're small, practical, and look pretty cute stacked up and wrapped with a ribbon. 
Pro Tip: Bar soap lasts longer when it can dry in between uses. Grab a soap dish or opt for a hangable loofah bag to supply a little extra exfoliation. Just be sure to wash your loofah bag between guests or send them home with it. 
#5 Great for your Airbnb or vacation rental
With the rapid growth of vacation rentals and Airbnb's, many property owners are wondering where they can buy travel size toiletries to stock into their guest bathrooms. A quick search on Google will yield many results, but most cater specifically to the hotel industry and only offer their products in bulk cases of hundreds of pieces at a time. While having a nice back supply of toiletries can have its perks, you could have thousands of pieces of guest amenities that you probably won't use before they expire. Not to mention, you must have enough storage to keep it all contained! 

While providing bathroom toiletries may seem insignificant or a waste of money to some, having high-quality toiletries accessible for your guests to use can make them feel special, well taken care of, and convey a positive image about your home and listing. Plus, both you and your guests will appreciate the convenience that our bar soaps offer as they can be used so many different ways, as outlined above. 
No matter where your rental is located, having a quality, all-natural bar of soap available is a nice touch and one that guests will often take home with them after their stay. All-in-all, it's a great extra to provide! If you run an Airbnb or vacation rental, be sure to check out our wholesale and hospitality program.
Soap that does more 
Whether you're heading out on vacation, want to deck out your Airbnb, or need a thoughtful gift to share with a special friend, all of our bars of goat milk soap are handcrafted with just four main all-natural ingredients — fresh goat milk, olive oil, coconut oil, and sustainably sourced red palm oil — with essential oils added to some for a touch of aromatherapeutic scent. Our travel size soaps offer the same quality and effectiveness you expect from our full size bars with a smaller size that's perfect for so many different uses. 
Now back to you: What's your favorite way to use your travel size bars of soap? Join the conversation and inspire others in the comments.