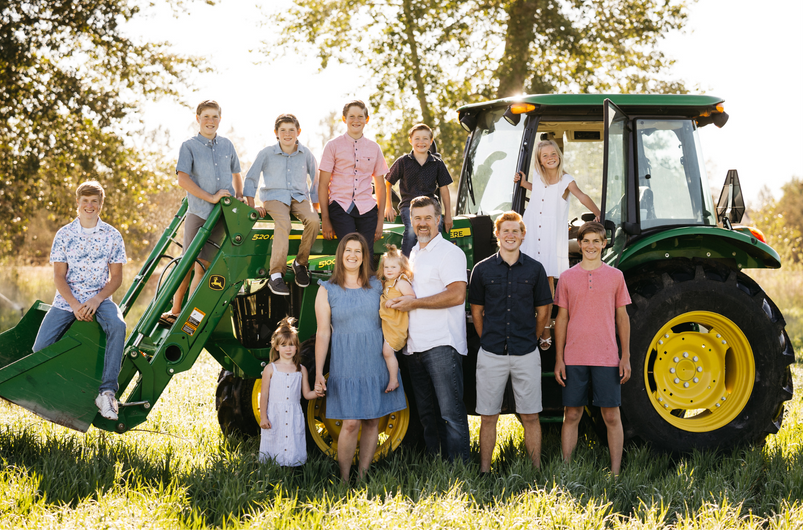 Celebrating 10 Years: A Look Back at Bend Soap Co. Over the Years
Bend Soap Co. is turning 10 this year and we're throwing a special anniversary event to show our appreciation for the Central Oregon community that helped us get started!
This event will be held at the Johnson Family's farm and Bend Soap Co. production facility on Friday, September 10th between 10am - 4pm PST. Join us to meet the family and the goats, take a tour of our facility, games, a petting zoo, raffle, prizes, pop-up shop, and more!
There will even be an exclusive raffle where guests can enter to win over $100+ worth of products including a Deluxe Gift Set, Bend Soap Co. merch, and more. 
RSVP today so you can add this event to your upcoming summer travel plans! If you can't be there with us in person, please celebrate with us virtually on our Facebook page. We'll be going live for a special drawing, Q&As, prizes, and more!
Tune in below to watch a special 10-year anniversary video featuring our founders, Dwight and Marilee, and other special guests. 
Video Transcript: 
Over the last 10 years of launching and growing Bend Soap Company, there's so much that we've learned. It's been amazing to watch it start from something so small and grow into the company you know and love today. It all started in our living room where our little ones would help us label soap and watch as Dwight cut the soap, eagerly taking the bars off the table to line them up so they would cure properly. Fast forward 10 years and we now have a staff of over 25 employees, a separate warehouse for shipping and fulfillment, dozens of new products, multiple milk supplier partnerships, and more. 
As our friends and loyal customers can attest, the company started out of a desperate need to fix our son, Chance, and his skin condition. It was all about making a clean, pure product that would actually work and that we could put in the tub with the kids without worrying how it might affect them. As a mother, I know what it's like to walk through the aisles of the grocery store and be searching for the products that you know you need and not be able to find them anywhere. Reading an ingredient list full of stuff that you don't understand and thinking, "this is probably going to be harmful for your children."
So, when we started making our soap, we were very intentional about picking the ingredients. That's why we went with the olive, coconut, and red palm oils along with high-quality essential oils and our star ingredient — goat milk. We handpicked these ingredients for the benefits that they provide our skin. As we've grown, we're proud to share that we've never walked away from our guiding principle that we will not put an ingredient in our product that we won't put on our skin and our children's skin. 
We use the products every single day in every single room of our house. They've become staples in our homes and lives. When we talk to other families and find out that they just love our products and they're the only products that they use, it just makes us want to keep making these products forever. 
When we first started Bend Soap Company, we thought we had to do everything ourselves. But there's an evolution in a company where the positions needed outgrow your abilities. Finding the right people with the right skills and bringing them in has been a key aspect to being able to keep our sanity, keep our family focused, and keep it so we're not totally overwhelmed.
We like to say that it's still a family business, we just have people in our family that we didn't give birth to! The team members we've brought on really believe in what they're doing, just like us. They read the reviews from the customers coming in of lives being changed and they take an ownership mindset. They've made it their business to really serve the customer, value the customer, and pour that much more detail into the detail of making of the product. 
One of our Soap Makers, Daniel Sprando, describes it best, "I've seen so many different people say, 'We love your product, we use it all the time, it's helped my son/daughter,' and I love making soap that makes people look better and just feel better in their own skin."
Back to You
Ready to celebrate with us? RSVP to the official 10-Year Anniversary event and follow along with us on Facebook and Instagram for more details. Can't join us in-person? Celebrate with us virtually on our Facebook page for a special drawing, prizes, and more.


More to Read