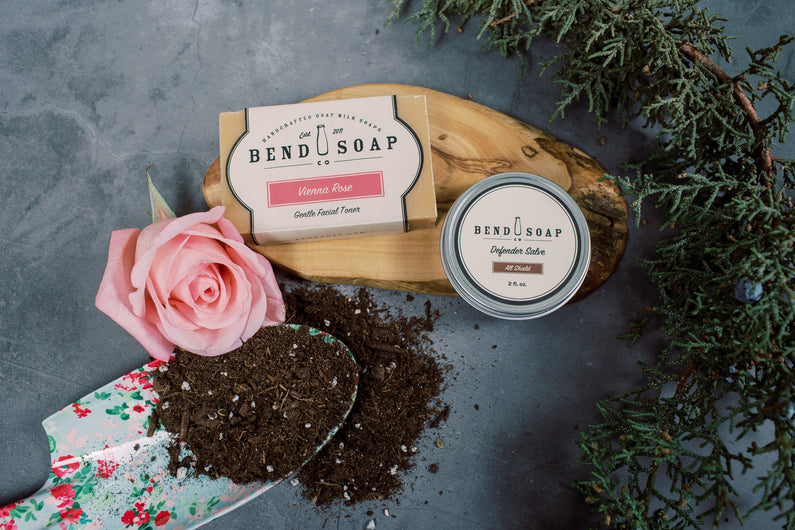 Tips For Gardeners: How to Keep Your Hands Primed for Gardening Season
Most gardeners will agree that messy hands are usually a sign of a well tended garden. While the downsides of spending time in your garden are few, your hands can often pay the price. Even if you wear gardening gloves, it's easy to rip through the fingertips of your gloves without knowing, allowing dirt and debris to find their way inside. The result? Rough, dry skin that's adorned with calluses. And let's not forget the dirt in between every crack, crevice, and cuticle.
Thankfully, with a little help from Bend Soap Company, it's easy to have hands that are as well-manicured as your lawn.
Don't let the fear of unsightly hands and a little dirt keep you from spending time outside in your beloved garden. Here are four all-natural skincare products to help you keep your hands looking well polished and ready for some good 'ol fashioned hard work. 
Goat Milk Soap
Use a bar of goat milk soap to keep your hands and arms clean and free of dirt and debris. 

Most big name brand commercially made soaps can be very drying on your skin. When you combine that with lots of time spent scrubbing your hands at the sink, it can leave you with skin that may be clean but is also dry, itchy, and lacking natural oils it needs to look and feel its best. 
Dry skin is not something to ignore. It can feel itchy, look blotchy, and make fine lines and wrinkles stand out like a sore thumb. But, more importantly, it's a sign that your skin is lacking the nutrients it needs to maintain its elasticity and fight off germs it encounters on a daily basis. 
Instead, opt for a wholesome and nourishing bar of goat milk soap. When you use our soaps, you'll notice that your hands retain their moisture and hydration. This is because we refuse to use any of the toxic chemical ingredients that are typically found in big name brand soaps.
🛈 Bonus tip: Before gardening, scratch your nails over a bar of soap to fill in where dirt normally ends up. This will help prevent unwanted dirt from hiding out underneath your nails.   
Salt or Sugar Scrub
Exfoliate with an all-natural scrub to remove deep, embedded dirt and debris out of your hands and arms. 

Don't skip this step! Exfoliating allows you to scrub away dirt and dead skin cell buildup on your hands, wrists, and arms, revealing fresher, younger-looking skin. It also feels amazing after a long day of gardening! The key is to use a product that contains ingredients that are healthy for your skin to absorb. Our collection of sugar scrubs are all made using a handful of all-natural ingredients (cane sugar, coconut oil, olive oil, honey, and essential oils. That's it!) that work with your body as it exchanges dead skin cells for nourishing oils.
Goat Milk Lotion
Seal in all that moisture by applying a hydrating goat milk lotion. 

When seeking out a hand cream for gardeners, it's important to find something that's rich and nourishing as to help counteract the dehydrating effects of wind and water. Our goat milk lotion was formulated to soothe and nurture all skin types — even the sensitive ones! — with all-natural ingredients. You won't find any parabens, phthalates, or other ingredients that are commonly known to irritate and dry out the skin. Instead, the goat milk and hydrating oils contained in our lotions replenish the skin's natural moisture.
If you want to take your moisturizing to the next level, apply goat milk lotion to your hands right before you go to bed and sleep with cotton gloves covering your hands.
🛈 Bonus tip: If your skin is particularly dry, itchy, or irritated, soak your hands in a bowl with a small handful of Oatmeal & Honey Milk Bath. We discuss a similar concept in this blog post. Or, alternatively, lather up with an exfoliating bar soap like this Lavender Blossom Goat Milk Soap. 
Salve
Use your favorite salve to target any rough spots, soothe cuts and scrapes, and keep your cuticles soft and healthy. 

This 100% all-natural salve balm is filled with richly intense moisturizing oils and just enough beeswax to seal it into your skin. With some added essential oils and plant based extracts and chamomile and calendula, this salve can soothe and nourish overworked skin while keeping it soft and protected.
If you're unsure of which scent to choose, opt for the Defender Salve. We love using it in place of traditional Neosporin and antibacterial ointments for typical cuts and scrapes. Swipe it on underneath a band aid or apply it by itself, just make sure that your skin is clean and free of any debris before application so that you can experience optimal benefits.
The best part? Because there are zero drying ingredients or essential oils in our salve (an ingredient that has been known to actually dry out the skin and cause further irritation for those with sensitive skin), your skin won't feel dry, tight, or parched like you need to reapply it multiple times a day. 
Back to You
Chances are, if you're not afraid to roll up your sleeves and dig around in the dirt, your hands have likely paid a fair price in all of your gardening efforts.

As a gardener, there's an unexplainable satisfaction in tinkering around in your garden with your bare hands. Taking the time to properly care for your hands before and after you garden will not only make you feel better, but will also allow you to spend even more time gardening as your hands will be primed and ready for a little hard work. 
Which of the products mentioned do you use — or plan on using — after you garden? Let us know in the comments. 
Continue Reading