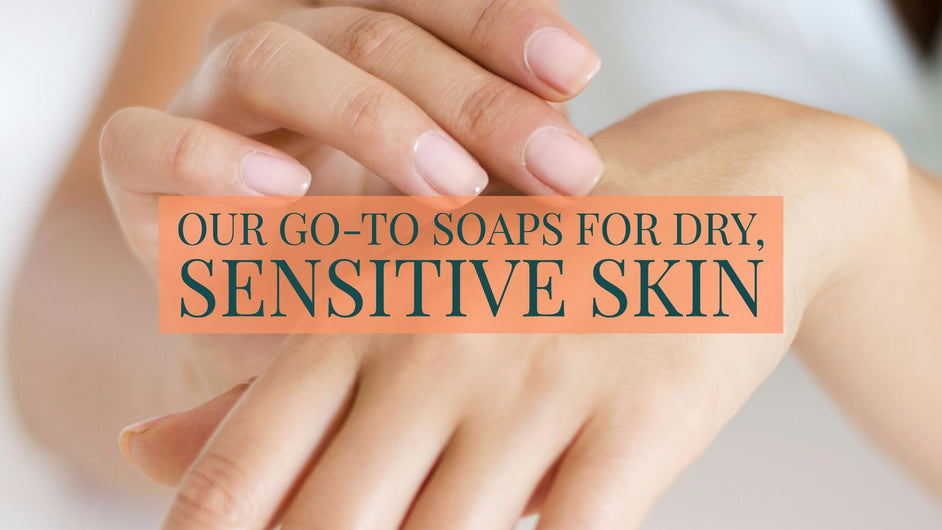 Our Go-To Soaps for Dry, Sensitive Skin
Whether it's caused by weather or an issue you've been dealing with all your life, dry skin is not something to ignore. It can feel itchy, look blotchy, and make fine lines and wrinkles stand out like a sore thumb. But, more importantly, it's a sign that your skin is lacking the nutrients it needs to maintain it's elasticity and fight off bacteria and pathogens it encounters on a daily basis. Maybe you've tried increasing the amount of water your drinking or upping your lotion use, but in order to revitalize your skin and bring it back to life, we need to dig a little deeper.
What's Causing My Dry Skin?
As mentioned on our dry skincare page, dry skin can be caused by some things we can control, and some things we can't. Here are five possible culprits for why your skin is dry and lacking in moisture:
Dry, Winter Weather: When temperatures drop, so does humidity, leaving the air dry and lacking moisture. Your skin is also left parched from indoor heating which makes the moisture in your skin evaporate quicker.
Hot, Steamy Showers: While standing a few extra minutes in a steamy shower can be soothing, it can damage your skin by stripping away its natural oils. The longer you enjoy a steamy shower, the more your skin will dry out over time.
Dehydration: If you don't keep your body hydrated, your skin will remind you by becoming scaly and flaky. This can lead to blotchy skin that highlights any fine lines and wrinkles you have.
Skin Conditions: Eczema and psoriasis are two skin conditions known to cause dryness, itching, bleeding, and an overall sense of discomfort. Symptoms may be reduced or eliminated by treatments and natural remedies, but many steroid creams are packed full of toxic ingredients that can actually do more harm than good.
Soaps and body washes with chemical fillers: When it comes to keeping your skin healthy and clean, not just any soap will do. Washing with soaps and body washes that are made using alcohols, GMO oils, synthetic fragrances, and other cheap fillers will strip your skin of its natural moisture barriers and leave it dry, itchy, and well, just plain unhealthy. And don't forget to think about your face washing routine, either!
The Best Soap for Dry, Sensitive Skin
With so many soaps claiming to be all-natural, how do you really know which soap to choose? Here's a quick tip: read the listed ingredients on the back of the label. The key is to find a product made using a limited number of high-quality, natural ingredients that naturally work with your body.
Here's a quick tip:

read the listed ingredients on the back of the label!
It was during our search to find a solution for our son's eczema that we realized how impactful one single ingredient could be on our skin: goat's milk. And while we (and hundreds of other customers) are convinced by the healing properties that goat milk delivers to the skin, you'll need to simply try it out on your own skin if you want to feel the difference first hand. Not sure where to start? Here are some of our favorite go-to goat milk soaps we recommend when people ask us what will work best for dry, sensitive skin:
Lavender Blossom Goat Milk Soap
Why we love it: This bar of goat milk soap not only smells amazing but it's made using tons of real lavender blossoms which act as a gentle exfoliator in the shower. The essential oils in this soap will help soothe cracked skin, bruises, dry skin, and other irritations.
If you're looking for something even milder, our Hint of Lavender Goat Milk Soap should do the trick (it has all the same benefits as the Lavender Blossom Goat Milk Soap minus the lavender buds.)
Unscented Goat Milk Soap
Why we love it: There are no scents or essential oils in our Unscented Goat Milk Soap. And, like all of our soaps, there are no chemicals, no dyes, no harsh allergens… No junk! If you suffer from sensitivities to chemicals found in soaps and other skincare products, this is the soap for you. It'll get to work cleansing and moisturizing your face, hands, and body while leaving your skin feeling soft and supple.
Sweet Orange Goat Milk Soap
Why we love it: Bergamot essential oil, known for its antibiotic and disinfectant properties, meets orange essential oil in this delicious smelling bar of soap. We'd love to say that this is a perfect bar to pick up for summer, but the truth is that it's an all-year favorite by many Bend Soap Company customers due to its sweet scent and moisturizing properties.
English Garden Goat Milk Soap
Why we love it: Made using a blend of Lavender, Rosemary, and Geranium essential oils, this bar of goat milk soap is a treat for both your skin and your senses. The scent is florally, but not overdone (we've even had quite a few men ditch their pine-scented body wash for this bar as they enjoyed how it made their skin feel after their shower).
Oatmeal & Honey Goat Milk Soap
Why we love it: There's a reason this is one of our best-selling products! (Okay, there's actually a few reasons, but you can read more about that here.) This is another soap we make that doesn't contain any essential oils. Instead, we swapped in real grains of oatmeal and tons of honey. The result? An all-natural bar of soap that delivers the rich moisturizers, vitamins, and minerals dry skin craves.
Back to You
Dry skin is a pain to deal with, but by making small changes in your life — like drinking more water and being mindful about the products you're using — you'll be able to get your skin back on track and ditch the dry skin to the curb in no time! To learn more about alleviating dry skin naturally, we encourage you to check out our dry skincare page.
And if you want to get rid of your dry skin once and for all, there are two more products we recommend: our goat milk lotion and our sugar scrub. When used in your regular skincare routine, the sugar scrub gently buffs away dead skins cells, allowing for the nutrients in your bar of goat milk soap to penetrate deep into your skin (the key is to remember to exfoliate your skin before you use your bar of goat milk soap). After you've hopped out of the shower, make sure you seal in and prevent any moisture from leaving your skin by applying a thorough coating of goat milk lotion to your skin.
All of the bars of goat milk soap we listed above are available as our milk bath product as well. Check out our entire collection of best-selling products formulated or sensitive skin. But before you leave, we have a question for you: which scent of our goat milk soap have you found to be helpful for your dry skin? Comment below and let us know which Bend Soap Co. products have worked best for you!
 
Other Posts You'll Enjoy