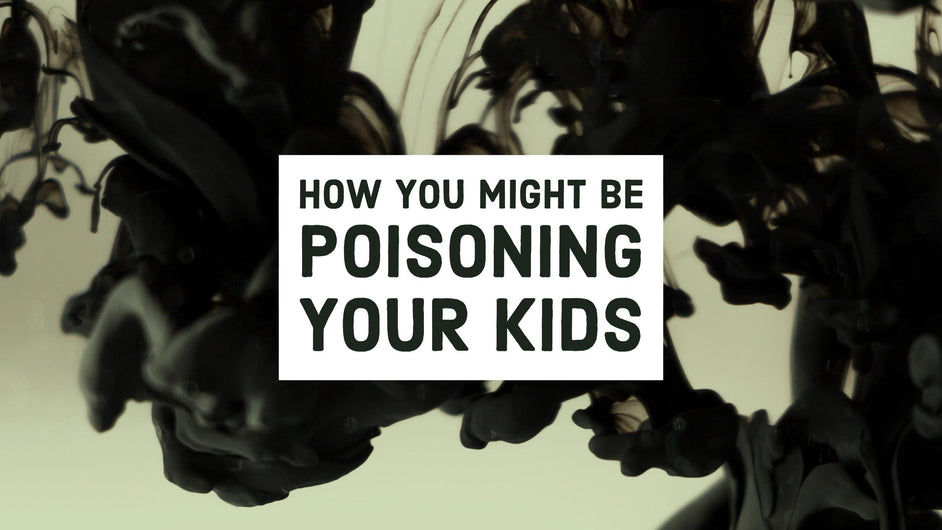 How You Might Be Poisoning Your Kids
It's almost time for your child's bath.
You see an innocent bar of soap and a mountain of playful bubbles. But what you don't see is the water is foaming with carcinogens and toxic breakdown products. Hazardous sulfates hide below the surface, ready to begin stripping natural oils from the skin's surface. Eventually, 60% of the 15-20 chemicals festering in the soapy water will soak into your child's skin and enter the bloodstream, potentially enabling food allergies, behavioral disorders, and infertility.
Who would send children to this chemical poisoning session? 

You? Me? The ignorant?
We can't even pronounce half the ingredients found in that bar of soap, let alone understand what they mean. As parents, it's important for us to know what we're putting on and in our children's bodies. Your child will not only absorb 60% of the products put on their skin, but they are also at greater risk of reaping the negative consequences of poor research and limited FDA regulations. 
When you scrub your child's sensitive body, are you really cleaning them? Or are you poisoning their body with hazmat?
When you scrub your child's sensitive body, are you really cleaning them? Are you keeping their skin protected? Or are you poisoning their body with hazmat?
Let's take a closer look at the soap you are using:
GMO Oils: Unfortunately, these genetically modified "vegetable oils" can even be found in some homemade soaps! GMO research is still limited, but animal studies with genetically modified substances show organ damage, immune system disorders, and accelerated aging and infertility. Human studies suggest that GMO's can result in autism, food allergies, and reproductive difficulties. I'm sure you'll agree we don't want our kids to be the guinea pigs of this new research!
Sodium Lauryl Sulfate: This common ingredient in commercial soaps creates deceptively innocent foam. However, this same product is used to degrease engines and scour garage floors! Do you want a product that dissolves the oils of an engine block dissolving the oils of your child's skin? How about irritating sensitive skin or allowing other chemicals to penetrate bodily organs more deeply? This is a big "no-no" for healthy skin.
Synthetic Preservatives: GMO's, BHT and other unnecessary preservatives found in soap are banned in other countries. We don't know the long-term results of using these products, but our children will. Why risk it?
Parabens: These ingredients actually mimic estrogen when they enter the bloodstream and don't flush out like other particles. When the body detects abnormally high levels of estrogen entering the body, it reacts in a few ways: decreased muscle mass, early onset of puberty, infertility... the list goes on.
Believe it or not, that's the quick version of what's soaking into our children. Let's not even mention dyes, fillers, alcohols, and detergents. Parents are busy! You don't have time to go cross-eyed over every mile-long ingredient list and wonder what it means.
Thankfully, there IS a soap that is moisturizing, loaded with vitamins (instead of toxins), and proven to keep your child's inside as clean as their outside! 
Every bar of goat milk soap from Bend Soap Company is made using three simple ingredients:
Fresh goat milk

Nourishing oils (Coconut, red palm, and olive)

Essential oils (for fragrance and healing properties)
That's it!
Goats milk nourishes your child's largest organ (the skin) with Vitamin A and doesn't strip the natural, healthy oils of their skin. Meanwhile, red palm and olive oils combine to lavish your child with Vitamin E, leaving their body silky smooth, moisturized and nourished. Finally, coconut oil provides a kaleidoscope of health properties that moisturize, fight wrinkles and guard against saggy skin (hey, don't just let the kids enjoy this...You might want to try some!)
When you research these natural products that can even be ingested orally, you won't find any nasty, hidden side-effects. Instead, you'll see this combination of ingredients heals eczema, fights acne, and has many healing properties. It even provides a rich lather and fragrant aroma without the negative side-effects of synthetic soaps!
Whether it's a tub of our milk bath, a bar of our goat milk soap, or even a tube of lip butter, we help you affordably treat your kids to one of the best quality soaps on the market. So, what do you say: Let's CLEAN our kids instead of soaking them in CHEMICALS!