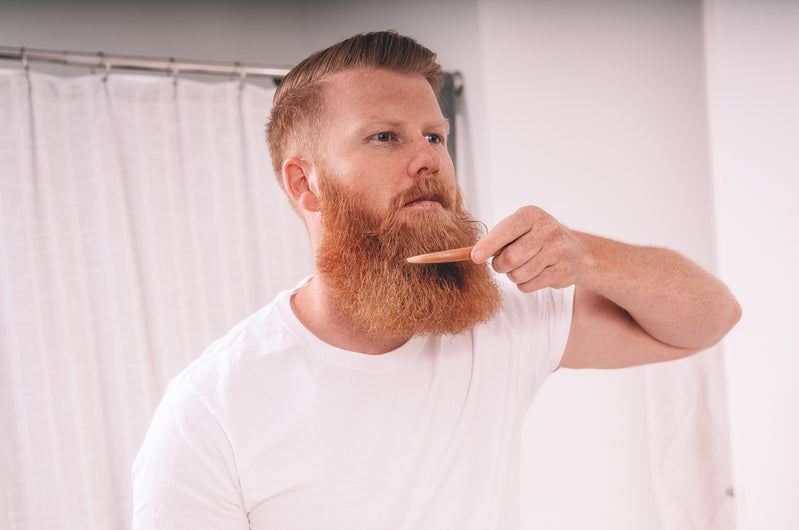 How to Get the Perfect Beard
Although beards and facial hair may look effortlessly rugged and manly, the surprising reality is that they can require a ton of behind-the-scenes grooming techniques, tools, and products to look well put together. Just as with the hair on our heads, keeping it clean and supplementing that with an occasional trim doesn't always cut it when it comes to facial hair. This is exactly why we've added an all-new product (in an all-new Bend Soap Company scent, Sandalwood Ember) to the shop: Beard Salve!
Fresh out of our new Men's Line, Beard Salve is an all-in-one beard and facial hair moisturizer, conditioner, and styling aid. Through weeks of quality assurance testing (and plenty of new facial hair as we've grown accustomed to our stay home orders), we've also come to appreciate this salve for a variety of reasons. For one, it's an effective way to help beards appear thicker and fuller thanks to the natural butters and oils that coat and hydrate the hair follicles. Guys love using it to keep their facial hair looking groomed (and their partners love when they do, too!)
There are several reasons to implement a beard salve into your hair care regimen. Whether you're the one growing facial hair or the one looking at it every day, you're sure to reap the benefits.
Men reported that they loved using our Beard Salve for the following reasons:
Helps promote stronger and smoother beard and facial hair. 
A natural way to lightly hold and style beards and mustaches.
Moisturizes and softens the skin on your face.
Can help beards appear fuller and less dry. 
Adds a touch of natural yet vibrant scent to your facial hair. 
And if that wasn't enough, this salve will also help make your facial hair look groomed and well kept without much hassle or time commitment, which your partner will definitely appreciate. Who doesn't want better smelling, better looking facial hair?
Tips for Storing: Because of their low melting point, we recommend that you store your salve in a cool, dry place and always ensure the lid is placed on tightly to avoid melting. If you find that your salve has melted, simply place it in the refrigerator for a few minutes to help it harden and go on your way! Our salves won't leave a greasy mess on your clothes but if they do come in contact with fabrics, we can assure you that our salve formula comes out in the wash with minimal effort.
But, What Makes Our Beard Salve Different?
As with all of our products, the difference is in the quality of the ingredients we use and our commitment to only using ingredients that we know provide optimal benefits to the skin. Here are a few of our favorite details to know about your new Beard Salve. 
100% All-Natural Ingredients
As with all Bend Soap Co. products, the ingredients we choose are at the heart of all that we produce and share with the world! Our Beard Salve is made with a blend of simple, non-toxic, all-natural ingredients. The plant-based butters and oils are the ideal ingredients for penetrating the hair follicles of your beard, leaving you with a soft, well-conditioned beard that's enjoyable for all.
Amazing Consistency
When you use our Beard Salve, you don't have to worry about being left with a beard that's sticky, greasy, dry, or flaky. We've specifically formulated ours to have a thick, creamy consistency that melts in the palm of your hands with your own body heat, turning into an oil that can then easily be distributed through your beard. For ultimate results, give your beard a few minutes to dry after applying it to your facial hair as this will allow the oils to fully absorb into your skin and hair.
Here are the main ingredients you'll find in all of our salves:
Beeswax
Non-GMO Coconut Oil
Chamomile Extract
Calendula Extract
Cocoa Butter
Shea Butter
Arrowroot Powder
Sandalwood Essential Oil
Orange Valencia
and Clary Sage
… And that's it! It's the ultimate, all-natural grooming essential to help you moisturize your skin and style your beard, naturally. 
Convinced that you need a beard salve in your life? We've got you covered. Follow these steps to get the maximum benefits each and every time you use yours.
How to Use Beard Salve
Before we begin, remember to take it easy on your beard and treat it well. You don't need to beat the salve into your beard or comb it like it's sheep wool!
Step 1: Take about a fingertip full of salve (more or less depending on the dryness of your hair and skin and the volume of your beard).
Step 2: Place the salve into one of your palms and rub your hands together until it's melted completely, covering the palms of both.
Step 3: With the melted beard salve in your hands, rub the oil into your beard in a downward motion towards your chin until the oil is evenly distributed throughout your beard.
Step 4: Depending on the size of your beard, take your hands and gently massage your beard in an upward motion, pushing the beard hair out away from your face until the oil is properly dispersed.
Step 5: Again, depending on the size of your beard, take your Beard Comb and work it through your beard in a gentle, downward motion, pushing the beard hair out away from your face until you have combed through your entire beard.
And there you have it, a fully groomed beard ready to take on the day! 
Extra Tips to Help You Keep Your Beard Looking Amazing
To get the maximum benefits and usage from your Beard Salve — and keep your beard looking its best — follow these additional tips. 
Keep your Beard Comb handy! You never know when you may want to comb through your beard. Grab a

Beard Grooming Kit 

to get the comb and Beard Salve in one single order. 

Use a bar of your favorite goat milk soap as a face wash in the shower. The rich lather will help you get a deep clean throughout your beard right down to the skin. Because our soap is made with a limited number of 100% all-natural ingredients, you won't have to worry about it drying out your beard or the skin on your face. It's a perfect time to try out our new

Black Licorice Goat Milk Soap

. 

Use a hair trimmer to trim any scraggly beard hairs. This will help give your beard an extra groomed look.
If you have any extra salve on your hands after you rub the oil through your beard, don't wash it off! It makes a great overall moisturizer for your face, hands, and lips.
Back to You
Quality, natural skincare products are just as important for men as they are for women so we couldn't be more excited to help you clean up his side of the sink with our new Men's Line.
Each product was designed with function (and zero fuss) in mind and we're confident that it will meet, if not exceed, all of your grooming expectations. Aside from the Beard Salve, there are a variety of new products you can now find in our Men's Line.
And, to top it all off, one of our best-selling scents — All Shield — is finally available as a natural deodorant. Pick up a tube of All Shield Natural Deodorant to see what all the hype is about. Or, for anyone with sensitive skin, opt for our All Shield Natural Deodorant (Baking Soda Free) version instead (the grapefruit seed and green tea extracts provide natural odor-fighting abilities and a super-smooth application). But for the ultimate experience in men's grooming, you'll want to be sure to grab a Father's Day Gift Set. With a little bit of everything (and the ability to add a Beard Grooming Kit!) and available at a killer price, this would make a great gift for Dad for Father's Day or anyone who you'd like to introduce to cleaner, natural, hardworking skincare products. 
The Men's Line is here, and we couldn't be more excited to share all of these products with you. Which product will you try out first? Join the discussion by leaving a comment below. ⁣
⁣
More Posts to Enjoy