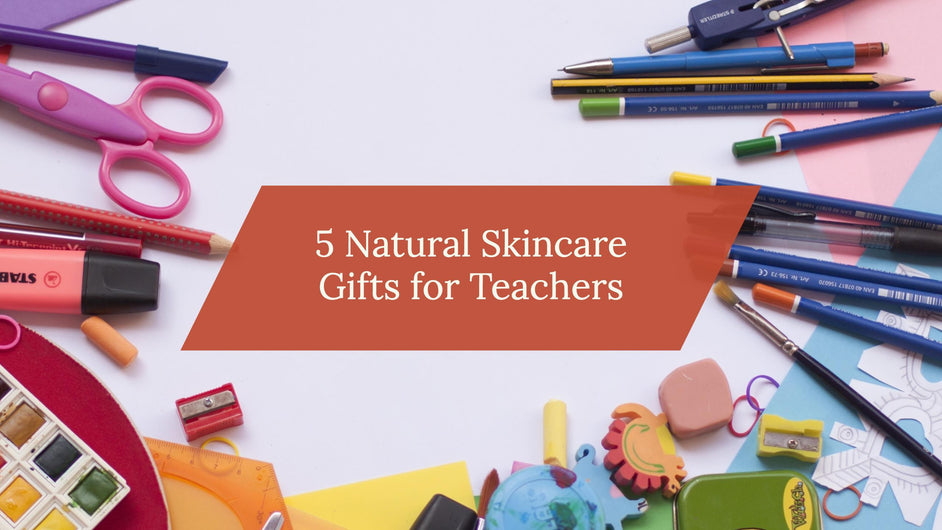 5 Natural Skincare Gifts for Teachers
Fall seems to be the time when things start to slow down around here and we get into a mellow, scheduled routine. Well, maybe that's not the case for everyone...
For teachers, back-to-school time means working hard, hustling and bustling about to meet everyone's needs, pouring information into eager minds (and getting creative with the not-so-eager ones), going to games and events... You get the idea.
These folks are BUSY!
If you're looking for a way to say "Thank You" to a special teacher in your life, then you're at the right place.
We have natural gifts options, skin-loving treats, and fun accessories to really pamper your favorite teacher. And, you can rest easy knowing that you're giving them a wholesome, nourishing gift that's good for their body at the same time. What could be better than that? Read on for the top five natural skincare gift ideas for teachers. 
Gift Idea #1: A Mini Gift Bag
Whether you're looking for a little something to let someone know they're special, want to add a touch of handcrafted goodness to your life, or can't wait to introduce someone to your favorite soap company, the Mini Gift Bag is what you need.
All you'll need to do is decide on which two scents of goat milk soap you want to include (this gift set comes with one travel size and one full size) and then choose your accessory; a Soap Rack or an All Natural Loofah Bag. Trust us... The recipient of this gift is going to be smiling all year long. Who knows, you might even get credit for starting a revolution in their skincare routine!
Gift Idea #2: All Natural Loofah Bag
Who doesn't love a good scrub? But those shower poofs... They're out! Instead of the common nylon loofahs, our All Natural Loofah Bag is made from sisal, part of the agave plant. This natural material is both exfoliating and gentle.
The loofah fibers scrub off dead skin cells without irritating the skin. Our favorite part about this loofah bag is how well it lathers; it creates TONS of moisturizing bubbles! Goodbye toxic shower gel… Hello, healthy skin! Share this fun accessory with a bar of our best-selling goat milk soap for a bath or shower your child's teacher won't forget.
Gift Idea #3: Goat Milk Soap
Our goat milk soap is always a hit, so gifting your child's teacher with one (or a few!) bars of our goat milk soap is sure to make them smile. The best part? Every bar of our goat milk soap is handcrafted from just four main natural ingredients. We carefully researched and chose these ingredients for your benefit. 
Fresh raw goats milk (from

our very own goats

!)

Coconut oil

Olive oil

Sustainably sourced Red Palm oil


We're confident that these ingredients will nourish your skin like no other bar of soap you've ever tried. Once you try our goat milk soap, it's hard to go back to anything else! 
Gift Idea #4: Milk Bath & Natural Foot Scrub Brush
Soaking in a warm bath full of shredded curls of goat milk soap is the perfect way to unwind and pamper the skin and body after a long day of teaching. Your child's teacher will love adding a handful (or two) of our milk bath to their bath, watching the water turn a milky white, and soaking from head to toe.
They can use the Natural Foot Scrub Brush to exfoliate those tricky little spots which means that they'll have soft skin all over and be ready to take on the next day with their best foot forward.
Gift Idea #5: An Essential Gift Set
Treat your child's teacher to one of our best-selling Essential Gift Set that's full of a variety of skin-loving goodies. This basket has a little bit of everything you need to keep your skin clean, soft, moisturized, and healthy. 
Here's what's included in the Essential Gift Set:
2 full size bars of goat milk soap

1 travel size bar of goat milk soap

1 bottle of Goat Milk Lotion

All beautifully packaged in an attractive and reusable basket of your choice

Being one of our most popular gift sets, this is really the ultimate way to give thanks and appreciation to the special people of influence in your child's life.
So, How Do You Plan on Saying "Thank You"?
When teachers are able to invest in self-care, they're able to put their best foot forward in the classroom. Plus, a little teacher appreciation never hurt anyone, right? So when it comes to saying "thanks", get them a gift they'll actually love (and use!) 
Are you a teacher or an educator? If so, join the conversation by leaving a comment below and sharing which of the gift ideas we listed above you think would be the best to receive. 


More Posts to Enjoy