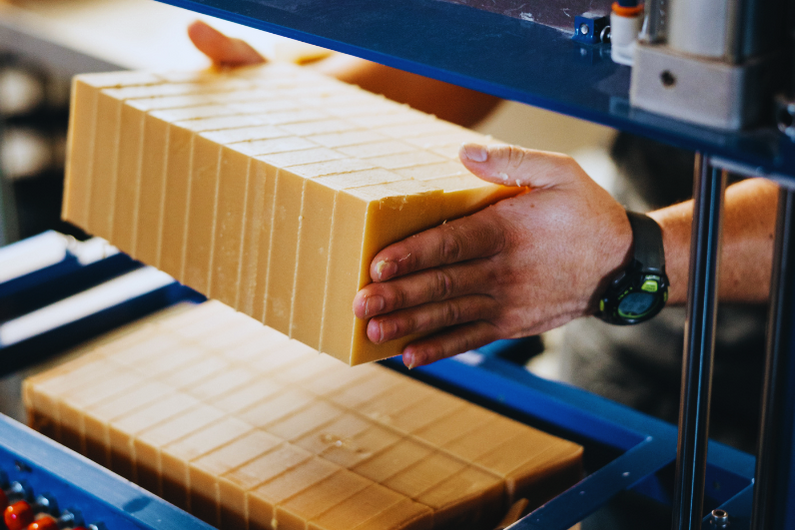 For the Love of Manufacturing: How We Grew Our Soap Making Business
This year may mark 10 years in manufacturing for Bend Soap Company, but it signifies decades more for our founder, Dwight Johnson. In fact, our success can largely be attributed to lessons learned from Dwight's lifetime of industry experience leading back to the days of his childhood. 
Growing Up in LA
Dwight grew up in a suburb of Los Angeles, California. The fifth son in a homeschooling family of eight, he would often get his schoolwork done and hurry to clean the pigeon lofts for the neighbor all before going to work in the afternoon with his father, Burnell, at the family business. The blessing of being able to work hard and earn some spending (and saving!) money was a gift to this ambitious young man who already had his own horse to feed and care for on his own.
The family business was Ceramic Decorating Company, originally established in 1934 by Burnell's father and brother, in the heart of the Great Depression. Later, three of their sons (including Burnell) bought the company. Together, they specialized in supplying decorated glass bottles to the cosmetic, food, wine and beer industries all over the country. 
Dwight looked forward to those afternoons at Ceramic, learning much as he watched his father manage the company. It was there that he further developed a strong work ethic – putting labels on bottles and loading the ovens – and discovered his love for systems and efficiencies. He enjoyed taking any process that wasn't working well, and transforming it into a process that eliminated the waste, stress, and friction. To watch a product come into the warehouse, flow through a streamlined operation with no waste, and then be shipped out as a quality, finished product, was his great aspiration.
Crisis Turned Opportunity 
Years later, when the company encountered major market shifts and lost some significant business, Dwight was at the right age and in the right place to step in and manage the company – ultimately helping it get back on its feet again. It was an experience that no college program could have prepared him for, and it's what sparked Dwight's desire to someday build his own manufacturing company. He had no idea what to manufacture, but kept his eyes open. "Soap" was obviously far from his mind.
Continuing the Family Legacy 
When Dwight started Bend Soap Company some 15+ years later, he had the best mentors available in his father and brother, Chad, who had also bought into the family company and was now running it. His father was there to help with location logistics for Bend Soap, allowing Dwight to have the goat herd and soap operation on his property. Burnell Sr. also helped provide a loan every now and then, and was always ready with invaluable advice that comes with 60+ years of experience serving customers well and earning their loyalty and business. Chad's counsel (as a strategic coach to multi-millionaires), offering positive mindset shifts, practical areas to focus on, and long-term vision strategies, was also invaluable. 
Scaling a Hobby Soap Business
While we don't often discuss the manufacturing side of Bend Soap Company, it's been a significant part of its beginnings and growth. 
Purchasing equipment and adding efficiencies came naturally to Dwight as Bend Soap found the need to scale. He matter-of-factly designed custom soap molds, handmade custom drying racks, and purchased hand-cranking shredding appliances for shredding the soap into milk baths.
Now, 10 years later, we have scaled with much more efficient systems and equipment as we continue to meet the demands of a growing customer base. We store our proprietary ingredient — fresh goat milk — in two large walk-in freezers. The soap-making kitchen sports three commercial stations for mixing soap batches along with two pneumatic (hydraulic) soap cutters. Batches of soap are poured in over 20 custom-designed molds and then cured on thousands of trays in the warehouse. To support our more recent growth, commercial-grade shredding equipment and a custom-designed labeling machine (to label our bars of soap) were also added to the Soap House.
Sourcing ingredients and packaging has been another huge step in scaling the business. For example, our organic coconut oil has often been purchased directly from the Philippines in 2,000 lb totes! And new sources are constantly being discovered to determine who can provide the largest quantities directly from originating sources, eliminating the need for any middle men which helps keep prices low for our customers.
The Future of Bend Soap Company
We are excited to continue to streamline the operations as the demand grows. One of the ideas that really excites us is to have a second location on the East Coast to provide faster delivery and more connection to the growing number of our customers residing east of the Rockies.
Another goal is to continue our efforts in sourcing the most affordable, and sustainable, packaging solutions for our products. This coming year, we hope to transition one or two entire product lines from plastic packaging to compostable packaging, with suppliers finally offering more affordable prices as demand has increased. The fun continues!
Make sure you're following us on Facebook and Instagram to stay in loop as we continue to celebrate and highlight various pieces of the 10 years of Bend Soap! 
Back to You 
As always, creating quality, all-natural, and affordable products is the motivation behind every move Dwight and his team make. And improving efficiencies just means we can keep the low prices and quality products our customers have grown to love! 
Dwight thrives at navigating the trials and tribulations that come with running a business and only seems to grow more determined to crack the code to exceptional manufacturing as the years go by. Do you have dreams of running your own business? Do you have any questions for Dwight? Tell us what you were surprised to learn about our founder and our story in the comments below!